Palm Beach County Property Management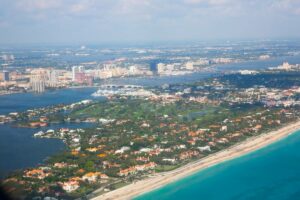 Palm Beach County is a large county in southeastern Florida, with around 1.5 million residents. The county stretches over some 2,300 acres and encompasses cities like West Palm Beach, Boca Raton, and Boynton Beach. The area was once home to Native American tribes, before settlers arrived in the 1500s and created the first European settlements in the vicinity.
Modern Palm Beach County was established in 1909, after splitting from neighboring Miami-Dade County. The local economy is driven by agricultural activity and real estate development; Palm Beach County is also home to multiple universities, including Florida Atlantic University.
Investing in Palm Beach County Rentals
Considering making a real estate investment in Palm Beach County? As the wealthiest county in the state, Palm Beach County is home to many luxury homes and rentals, some of which command highly monthly rents; of course, this appeals to investors, but turning a continual profit is no small feat.
Working with an experienced Palm Beach County property management team will allow you to keep your needs in check while saying goodbye to the stress of handling your property's needs solo.
Working with True Patriot Property Management in Palm Beach County
At True Patriot Property Management, we have extensive experience working with clients across South Florida. Our team handles all of your management needs from you, giving you the freedom to focus on other priorities. We have designed Palm Beach County property management services that ensure your rental stays performing optimally.
From finding the right tenants for your property to handling rent collection, maintenance coordination, and inspections, we take care of all of your portfolio's day-do-day management. Learn more about our Palm Beach County property management packages now.
Ready to get started? Contact us to schedule a free consultation: 561-502-3227
OUr Team KNows Local Rentals
From Boca Raton to West Palm Beach and everywhere in-between, South Florida is home to some of the most vibrant communities in the state. If you own rental property in the area, you know how important it is to develop a thoughtful property management strategy for your investment. Working with the South Florida property management pros is a simple way to keep your home's needs in check.
At True Patriot Property Management, we understands the ups and downs of the local market and we work tirelessly to help our clients to succeed. Learn more today by scheduling a free consultation with a member of our team.
"Very professional and personal service by both Jon and Sonia. After my first conversation about my properties, I knew they would be my choice to replace the current property manager. I could tell they both had the experience needed to handle the many situations that come with being a landlord. Sonia sends me a statement every month. I couldn't have made a better choice."
Frank Martin, Satisfied Client
"I hired JCS Realty and management for my 8-unit apartment building in West Palm Beach. They quickly solved most of my issues with the tenants and rent collections. I am now seeing consistent returns on my investment and all the tenants seem happy with the new management company. I should have hired Jon and Sonia sooner."
Mary Prouse, Satisfied Client
Tenants Enjoy Working with us, TOo
"I live in an apartment that is managed by True Patriot since 2019 and from the beginning I noticed how well managed this property was. Jon and Sonia are very responsive to maintenance issues and very easy to work with. I will be signing my 3rd lease with them and after that I will be ready to use them to purchase my new house."
Josh McDonald, Satisfied Renter
South Florida's


Local Property Management Experts
Stop leaving your rental's success up to chance. Partner with True Patriot Property Management and let our team of specialists tackle the hard work for you. From finding qualified tenants to handling rent collection, repairs, and inspections, we ensure your rental performs optimally.
Schedule your free consultation today to get started.